Rosie (RVT)

Rosie grew up on the family farm in Unity, Saskatchewan and this is where she developed a love for animals. She went to college in Vermilion, AB and graduated in 2003. She joined our team in 2004 and has worked here ever since. While living in Prince George Rosie has started a family of her own with her husband. Together they have a little girl who just turned six and a newborn baby boy. When she is able to find time from her busy life, her hobbies are watching movies, baking and reading.
---
Sonia (RVT)
Sonia, graduated from the TRU Animal Health Technology program in November 2014. She is enjoying the variety that comes with her position at PG Vet.
She has one cat (and one is enough) named Spaghetts.
Sonia enjoys flying kites, collecting erasers, and riding her scooter. She has an active imagination and loves a practical joke.
---
Lili (RVT)
Lili grew up in Osoyoos, BC, graduating from Osoyoos Secondary High and going on to earn a B. Sc. Zoology at UBC in Vancouver. She then returned to the sunny Okanagan where she worked in a veterinary hospital for twelve years, learning all aspects of the business as a kennel technician, animal health technician, receptionist, and eventually office manager. Lili moved to Prince George in 2009 and lives with her three horses, miniature donkey, miniature horse, six bunnies, one goat, three dogs, and ten cats. She loves living in Prince George and working at our hospital. Lili completed the distance Veterinary Technology program at TRU in November 2014.
Her favourite pasttimes are "fixin'" things around the farm, playing with her many pets, being outside, watching movies, reading, and going on nature walks with the dogs.
---
Angelique (RVT) (Maternity Leave 2022)
Angie grew up in Houston, B.C. and is a graduate of the TRU AHT program in Kamloops. She joined our team in March 2013. Angie enjoys camping, hiking and cooking.
She has a busy household filled with many pets from multiple species.
---
Kristie (RVT)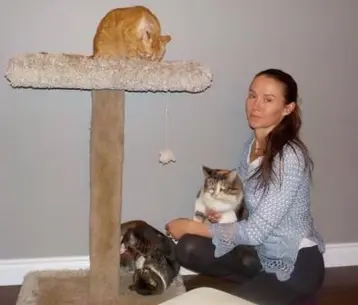 Kristie grew up in Aylmer, Quebec, near Ottawa. In grade 7, her family moved to beautiful BC, where she completed her schooling in French Immersion. She took first year general sciences at SFU while deciding whether Marine Biology was the path she wanted to pursue. She then enrolled in the Nursing program at BCIT, and though she loved her courses, something still wasn't right. She then heard about the Animal Health Technology Program at the University College of the Cariboo (now TRU) in Kamloops, and found her true calling. She graduated in 1996, and has since worked in several small animal practices in Coquitlam, Burnaby and Prince George. For 8 years, she was the newsletter editor for the Animal Health Technologists Association of BC, and in 2008 was awarded AHT of the Year for her contribution to the association. She has volunteered as a member of the Canadian Animal Assistance Team, traveling to Ucluelet, Burns Lake and Nunavut for spay, neuter and vaccination community projects.
She has 2 boys and 3 cats who keep her very busy. In her limited spare time she enjoys yoga, hiking, skiing, gardening, mountain biking, swimming, concerts and live theater.
---
Andi (RVT)
Andi learned she wanted a career with animals at a raptor rehabilitation centre, in her home town of Ladner, B.C. She entered the veterinary industry in 1995; graduating from the TRU Distance Education program in 2008.

She moved to Prince George in 2009. Andi enjoyed the care and great service her family received at PG Vet and in 2018 she took the opportunity to provide that same great care and service to other PGVH clients and pets. She has an affinity for senior cats and enjoys improving their quality and longevity of life.
Andi and her husband enjoy taking their daughter swimming or to one of the many beautiful parks PG has to offer. She enjoys baking, going to the drive-in, playing hockey, snowshoeing and the elderly. Andi's family also includes 2 cats, 3 guinea pigs and a dog with Cushing's Disease, named Pork Chop. Andi is pictured with her 19 year old cat, Max.
Brittney (RVT)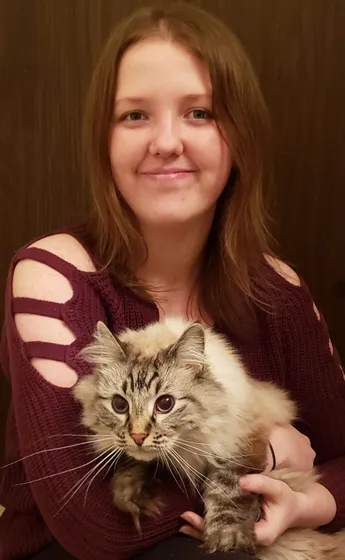 Brittney joined our team in September 2019. She was born and raised in Prince George.
She graduated from the Veterinary Technology program at TRU in the spring of 2019. She lives with her boyfriend and two cats, Simon and Tera. When she is not at work she enjoys cooking, watching movies and spending time outdoors.
---
Kenna - (RVT)


Kenna completed the distance veterinary technologist program through TRU in 2023 and has now joined the ranks of our other registered veterinary technologists.



Brittney - (RVT)/Administration
Brittney was born and raised in Calgary, Alberta. She graduated from the Animal Health Technology program at NAIT Fairview Campus in 2006. She worked in Calgary as an RVT for nine years until she moved to Prince George with her husband and children.
She joined the PG Vet team in 2015 and is returning to the team in the spring of 2023, following a six year absence.
When Brittney is away from work, she enjoys swimming with her three sons, crafting, reading and camping with her family and their three dogs.