---
Hello. My name is Tony and I'll be your tour guide on a trip through the Prince George Veterinary Hospital. Most of us don't like going to the hospital, and I'm no exception, but the people here are very nice.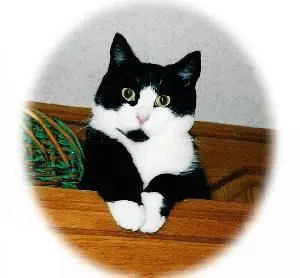 It starts at the receptionists' desk, where the receptionists couldn't help but be taken in by my good looks and debonair charm. Then again, those ladies wouldn't work here if they weren't suckers for a handsome and fascinating feline in a tuxedo, such as myself.
After the receptionists were finished cooing over me, they took me to an examination room. I'd like to say that I wasn't at all mortified to see the scale, but I really had no wish to reveal my weight to these ladies. Nevertheless, they weighed me and recorded the weight. Don't ask; that wouldn't be polite.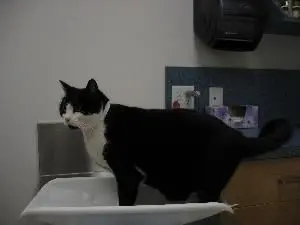 Soon I was whisked off to the treatment area for my full examination. The veterinarian checked me over: my temperature (not my finest moment), my heart rate (I have a big, healthy heart!), and my teeth. Alas, I needed dental work.
The veterinarians here are very thorough. Prior to my anaesthetic, they collected my blood. I hate needles, but these people are professionals. It hardly hurt a bit.One of the four registered animal health technologists who work at the hospital took my blood into their lab and checked it to see that my kidneys, liver and other internal organs were working properly and I was healthy enough for my anaesthetic.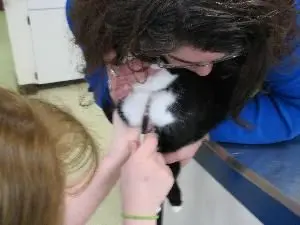 While the ladies of the lab (gentlemen, we are at a premium here) were checking out my blood, I introduced myself to some other cats. One of them was another rather handsome fellow like myself in to have the veterinarians x-ray and splint his broken foot after a daring adventure. His stories were thrilling albeit somewhat exaggerated. James Bond he was not.

I had hoped that I would have the opportunity to torture the dogs in the hospital. Unfortunately, the canine recovery room is quite separate from where they keep us more refined felines. Refined or not, a bit of fun would've been nice. Having determined that my blood work was fine, I was given a sedative and some pain medication before they began the dental work. If you've ever been to the dentist yourself, you'll recognize, I'm sure, what a courtesy that was.
I relaxed in a kitty kennel for a while before the procedure unlike you poor human souls who are left unsedated in a dentist's chair to worry about what will happen and slobber like Cujo.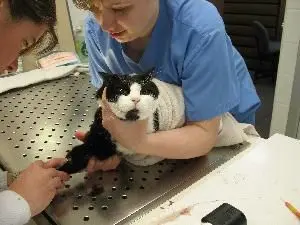 I then received an anaesthetic and I can only tell you by report what happened after that. I was out like a light.
They shaved a small patch of my beautiful fur (don't worry, ladies, I'm fully recovered and utterly beautiful once again) and attached a Doppler monitor to keep track of my blood pressure and heart rate while I was anaesthetized, and then cleaned and polished my teeth. They also put a small tattoo in my ear and a microchip under my skin; my owner would be devastated to lose such a handsome, charming fellow as me and, without a tattoo and/or microchip, she would have no way of relocating me. Just before I awoke, I was given some extra pain medication and had the tube which was assisting my breathing removed.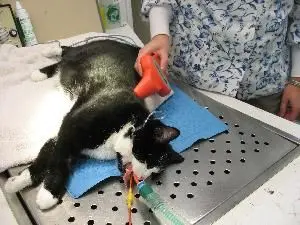 My first recollection after surgery was of being all cuddled up in a nice, warm towel, back in my kitty kennel.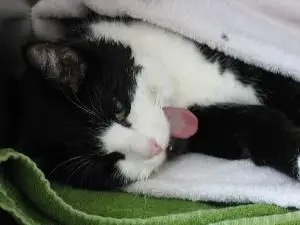 While in the feline recovery room, I met another cat who was recovering from surgery. She told me she had received equally exquisite care from her surgeon. She also received a sedative and pain medication before her anaesthetic and then was wheeled into the surgery suite to be spayed. She was looked after by a veterinarian and an animal health technologist who were all scrubbed, gowned and gloved and she was closely monitored by another animal health technologist during the entire procedure.When it was all over, and time for me to go home, my mom met me in an examination room. One of the animal health technologists went over how to look after me while I recovered at home and gave my mom some antibiotics from the hospital's pharmacy. I was then released into the loving arms of my mom. While I have nothing but good things to say about the people at the Prince George Veterinary Hospital, there's no place like home.