Casey Bockus - Owner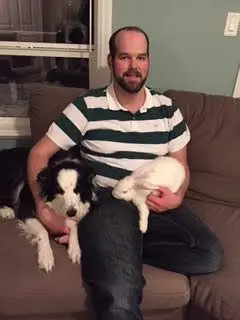 Casey moved his family back to Prince George in 2015 and joined the team at PG Vet as the Service Manager. Casey grew up in Prince George and started working at the Prince George Veterinary Hospital in 1999 while attending KRSS. In 2003 Casey left to pursue Animal Health Technology at Fairview College. Upon completing the AHT program he moved to Calgary where he worked as an emergency technologist for ten years. During that time he met his lovely wife and started a family of three boys.
He spends most of his spare time in extracurricular activities with the family and caring for his multitude of pets (multiple dogs, cats and exotics). He hopes now that he has returned to the "Great Outdoors" he can rekindle his love for camping and fishing.

Heather Hannam

Heather grew up on a hobby farm in Prince George; spending her time riding horses and enjoying the outdoors.
When Heather is not at work, she enjoys being a PG Cougars fan, a Theatre Northwest patron, gardening, fitness, sewing, and enjoying Jodi, a senior Jack Russell Terrier and Ricki, a Parson Russell Terrier (2022 model).
She graduated from UNBC with a Bachelor of Science in 2007.
Heather has held various positions in the hospital over the years since 1975 and is now the Office Manager.