Dr. Terrence Barbonis - Owner

As a kid I wanted to be a vet, like many kids. Then in high school that plan went off the radar for a while but closer to graduation I had to start thinking about what to do as a grownup. I still loved animals and I figured it would be nice to do something that's a bit more hands-on than just sitting at a desk, so going back to my childhood dream made sense.
Every visit I try to have a beneficial effect on an animal's well being. That can be as simple as making owners aware of their pet's weight problems and making a plan to tackle that or as complicated as making a diagnosis of a serious condition that required doing a large number of different tests to get to the bottom of before we can start treatment.
I also try to make patient visits as little stressful, or for some patients as much fun, as possible. At the same time I try to make sure that the owners have a good understanding of any medical concerns we might have about their pet so we can work together to address these.

I adopted my dog Willow from the humane society recently. She was treated at our clinic for Parvovirus before the humane society found a, what turned out to be temporary, home for her. I fostered her for a while after she was surrendered back to the humane society and eventually adopted her. She loves to come for hikes, x-country skiing and mountain bike rides. She also loves to eat anything that I leave unguarded on the kitchen counter
---
Dr. Sara Vanderkraan - Owner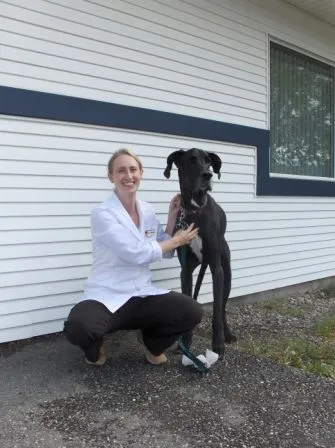 I had this idea as a kid that working with animals would be the best job in the world. At the age of thirteen I started volunteering at a mixed animal practice and subsequently got hired and the rest is history.
My goal with every patient visit is to have every patient leave the hospital with their potential health issues or current disease addressed or at least their comfort and safety addressed. I also want my clients to be able to leave the hospital with more knowledge on how to help their furry friends.
My current household is being overseen by a fuzzy black and white cat named Edward Scissorhands aka Eddy. The canine component is a lovable, energetic Border Collie mix and a toothless popcorn fluff of a Papillon.
There is not one core philosophy I have because I try to reflect on other's perspectives. I do believe that you should treat others as you would like to be treated and do everything within your power to make this world a better place. Corny, I know!
---
Dr. Denise Berry - Associate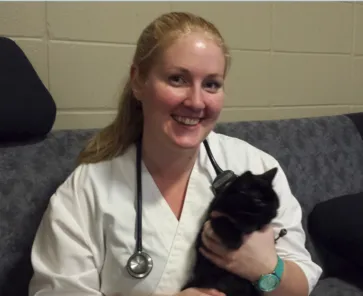 I have always had an interest in science and medicine and after many years in 4H, I knew that I wanted to be a veterinarian.
Though I grew up on Vancouver Island, I completed a biology degree here at UNBC prior to attending the Western College of Veterinary Medicine in Saskatoon, to acquire my veterinary degree.
My family consists of my husband, young daughter, and our black cat, Gabriel.
I joined the PG Vet team after graduating in 2015 and have learned and grown as a veterinarian since. I particularly enjoy surgery and dentistry but I love to help heal patients in any way I can.
---
Dr. Shauna Gleasure - Associate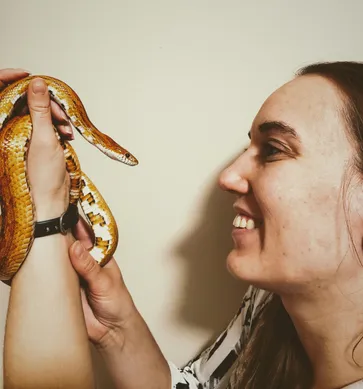 I, like many others became interested in veterinary medicine because of my love of animals, my passion for the sciences, and the thrill of puzzles. From a young age I have owned and worked with a variety of animals and have developed a special place in my heart for the exotics.

With every patient visit I aim to make the experience as positive as I can for both the animal and owners. To me it's not just about the medicine but also strengthening the human-animal bond. I also strive to make my visits a conversation where everyone's input is valuable and everyone (including myself!) has a chance to learn.
Currently, my partner and I live with our two cats, Nymph and Pixel, as well as our two corn snakes, Quetzi and Teo. Back home on Vancouver Island I also have my beautiful family dog, Zaine.
Dr. Petra Jebbink - Associate
We are very pleased to welcome Dr. Jebbink to our team. She had been practicing veterinary medicine in Manitoba and joined our team in December 2020.
Dr. Josh Cousins - Associate
Josh is from Kelowna originally and moved to Prince George with his partner for work opportunities. Within veterinary medicine, he has a passion for animal behaviour as well as animal nutrition. Josh is also heavily involved with mental health initiatives within the profession and works to destigmatize these conversations and provide support to veterinarians experiencing struggles with their mental health.
When Josh is not working, he loves spending his time cartooning, painting, sculpting, collecting LEGO, playing a variety of video games and snuggling with his cats.
Dr. Maeghan Forster - Associate
Dr. Maeghan Forster was born and raised in Prince George. She graduated from UNBC in 2018 (BSc Honours) and from WCVM (DVM) in 2022, joining the PG Vet team in May 2022.
She loves dogs, cats and horses. Dr. Forster is very involved as a horse riding instructor and also enjoys boating, as well as going on adventures with her family.
Dr. Forster currently has seven horses, four family dogs and one awesome cat; recently adding a puppy named Kubota to the bunch.
Dr. Jasmine Vogel - Associate
We are very pleased to welcome Jasmine to our PG Vet team. Dr. Vogel recently graduated from the Veterinary College at the University of Prince Edward Island.